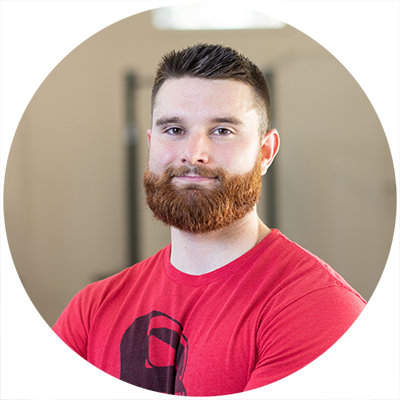 Caleb is currently a Senior at the University of Oregon, completing a Bachelor of Science in Human Physiology in June 2019. He is from the small town of Naches, Washington and moved to Eugene following enlisting in the Oregon Army National Guard in 2014. Upon completion of training from 2014 to 2015, Caleb enrolled at the University of Oregon and began his work in the fitness industry at International Fitness. He was a fitness sales consultant and became certified as a personal trainer through the National Council of Certified Personal Trainers. Shortly after, he began working at the University of Oregon Student Recreation Center and recertified through the American Council on Exercise in 2016.
Caleb has been active his entire life and enjoys being outdoors when not in school or training others. He has personal experience working through injury, as for the last year he has been battling a severe back injury that has since discontinued his military career and altered his lifestyle. That hasn't stopped Caleb from pursuing his personal goals and advancing others toward theirs. He is currently the strength and conditioning coach for the University of Oregon Men's Rugby Football Club, physical therapy aide at Tensegrity Physical Therapy and provides personal training at Strength Lab Eugene and the University of Oregon Rec Center.
Caleb has worked with Oregon Football as an athletic training intern and is highly experienced in a variety of exercise modalities. He has designed rehabilitation/training programs for athletes and the general population that are unique, effective and science based. With this approach, Caleb believes that you can achieve what your body is truly capable of, while consistently staying injury free and living the lifestyle you've always wanted.